02-25-2019, 07:03 PM
jgiannone


Riesentöter PCA Member

Posts: 13
Joined: Mar 2007
Track Prep
As the upcoming driving season approaches, some thoughts on track prep are worth consideration. All sorts of discussion at the track, and on forums, is dedicated to mechanical failures and the associated consequences. From my experience, most mechanical failures can be foreseen, before the failure occurs. Parts don't usually catastrophically fail, they give off signs. Close inspection, I mean really focussed inspection can uncover impending failure before things fail. Tires usually show signs of excessive harsh wear. Do they have any cuts in the tread, or evidence of overheating? Things don't get better, they only get worse, and usually faster. And yes, everyone would like to get dozens of runs/heat cycles out of track tires, but in reality, for faster drivers and heavy cars, tires start to show those signs of fatigue before something gives way. Do your wheel bearings rattle (when you spin the tire, do you hear a rumbling sound, or just smooth). They don't get better either, usually get worse, faster. Are you losing axle grease out of the end, a sign of overheating, and if its not replaced, the bearings inside will wear, again, faster. Do your axle boots have small rips or tears, or is there grease leaking from the boots? And a favorite, showing up at the track for a hot three day event, in a fast heavy car with only half the brake pad thickness of new. Again, they wear so much faster in the second half of their life than in the first. We spend quite a bit to go through an event. An extra $300 for new pads is money well spent, and a safety edge where one is needed with an expensive car to protect. The point is, spend the extra time to look at everything, and anything that gives you pause, is likely something worthy of attention. Its a shame its not as easy as, "I need new golf balls". But things can go form being a lot of fun to a disaster pretty quick out there, so see how many failures you can spot before they happen.
03-04-2019, 06:13 AM
Phokaioglaukos


Riesentöter PCA Member

Posts: 1,086
Joined: Jul 2006
RE: Track Prep
Wise advice. Pay attention.
---
Chris
981 GT4
996 GT3 Cup
PCA Nationally Trained DE Instructor #200810247
Genesee Valley BMW CCA Instructor
03-04-2019, 06:43 PM
jgiannone


Riesentöter PCA Member

Posts: 13
Joined: Mar 2007
RE: Track Prep
Thanks Chris. You and I and many others who have logged lots of tough miles have seen anything that can go wrong, go wrong. Just trying to make sure everyone has fun. Antron Brown, top fuel drag racer said that there's a million ways to lose and only a few ways to win, that's why his Check List gets longer every year!
03-17-2019, 06:43 PM
(This post was last modified: 03-17-2019 06:45 PM by SomebodyDial911.)
SomebodyDial911


Riesentöter PCA Member

Posts: 260
Joined: Jun 2012
RE: Track Prep
Speaking of which, any input on my front rotors (see photo)? Would they pass inspection? First time with cracking, so i don't really know how to judge (the cracks don't yet extend from hole to hole, which i understand to be the signal for needed replacement).
Thanks!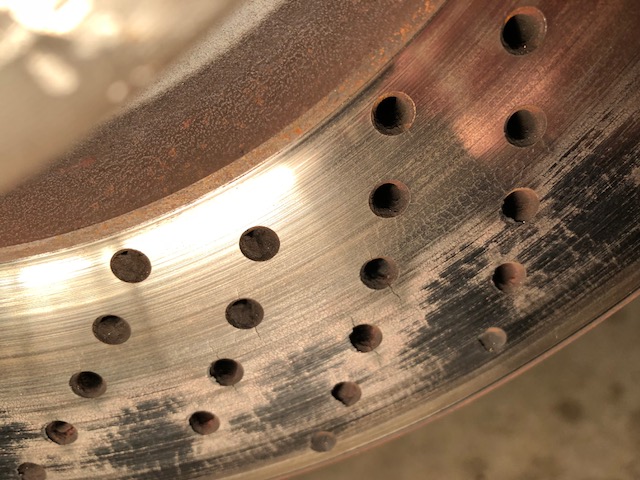 ---
2010 997 C2
03-17-2019, 06:54 PM
(This post was last modified: 03-17-2019 06:55 PM by Phokaioglaukos.)
Phokaioglaukos


Riesentöter PCA Member

Posts: 1,086
Joined: Jul 2006
RE: Track Prep
For cross-drilled rotors I replace when cracks are about to connect hole to hole or to the circumference.
For slotted rotors I replace when the slots are about to no longer be slots.
(I use slotted rotors--they last longer.)
I have just had a good experience learning how to judge when wheel bearing need replacement: when they spin at all freely. the catch is that the axles need to be out of the rear to allow the test. Play is also a replacement indicator, but I felt none and that appears to be common. On a race car one needs to replace wheel bearings, and many other parts, based on hours of use. Just ask Corey....

---
Chris
981 GT4
996 GT3 Cup
PCA Nationally Trained DE Instructor #200810247
Genesee Valley BMW CCA Instructor
User(s) browsing this thread: 1 Guest(s)